Note: The Edirol R-09 is discontinued.

Edirol R-09 Review

First Impressions
Yes, the Edirol R-09 does look like an electric shaver, especially in black. Maybe that's why they came out with the new versions in red and white.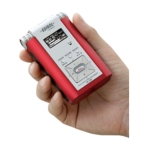 It is incredibly lightweight and fits easily into a coat pocket. Comes with an owner's manual, AC adapter, usb cable and a 128 mb SD card.
You will want a bigger media card.
The buttons are tiny but precise and clearly marked.
The build quality is good.
Ease of Use
If you're familiar with a file/menu computer interface, the Edirol R09 is very easy to use, especially using the built-in mics and no effects.
I spent about 10 minutes reading the manual before I made my first recording and haven't needed it much since.
Access to the batteries, usb port, and SD media card is not intuitive. Moreover, Edirol warns that inserting the batteries incorrectly may damage the unit, which only increases anxiety around the issue.
To the manufacturer's credit, the supplemental instructions on inserting batteries into the Edirol R-09 are very clear.
After practicing a few times, the battery access door is not a deal-breaker for me. Conceptually, the design is quite elegant and efficient.
Storage and Connectivity
With the latest firmware update, the Edirol R-09 accepts SDHC cards with a capacity up to 8GB. This means that you can fit up to 12 hours of cd-quality (44.1kHz/16-bit) recording on one card.
The usb 2.0 connection is quick and responsive.
Battery Life
Excellent. The Edirol R09 won first place in our recent battery life contest . Using 2600 niMH rechargeable AA batteries and recording to mp3, the R09 blew away the competition by lasting more than 8 hours on one charge. Of course, you may achieve different results.
Sound Quality/Microphones
Check out the sound sample and let your own ears decide. It sounds good -- amazingly good for its size and price.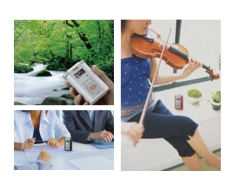 Conclusion
The Edirol R-09 is a good-sounding, exceptionally convenient recording tool.
Check out Edirol's practical guide for more ideas on how and where it can be used.