Marantz PMD620 Review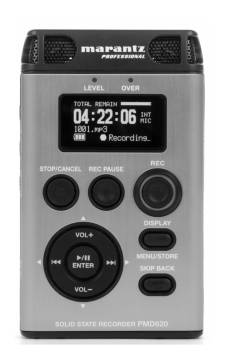 First Impressions
The Marantz PMD620 is palm-sized -- about the same size as a deck of cards (4.0" x 2.25" x 0.9") -- and looks cute.
It feels smooth and solid in the hand. The faceplate and microphone guard are metal. The sides and rear are plastic.
The PMD620 screen is small but spectacularly clear and bright, especially on the "large font" setting. It's the most legible screen we've seen so far.
The buttons are larger than any others we've seen too.
The record function buttons are recessed and squishy. The others are crisp and precise. All are very responsive.
In the Box
The Marantz PMD620 comes with
an audio y-cable
a usb cable
an AC adapter
a "Handy Strap"
a tripod adapter
a 512mb SD card
a User Guide in 4 languages (English, French, Spanish, German)
a CD-ROM of the User Guide in 8 languages (English, French, Spanish, German, Dutch, Italian, Portuguese and Swedish)
This is good, but it would have been nice if Marantz had included a real carrying case or pouch instead of just the "Handy Strap."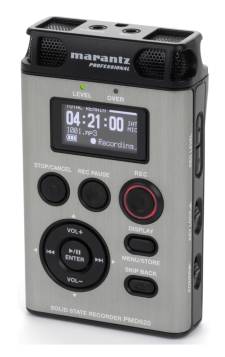 Ease of Use
The PMD620 is extremely easy to use. Press the REC button once and it starts recording. Press REC PAUSE to set levels with the '+' or '-' REC LEVEL buttons on the right side of the unit.

Press the STOP/CANCEL button once and it stops. Press the PLAY/PAUSE/ENTER button to playback what you recorded. Really easy.

You'll have to play with its file/menu interface to adjust your choice of settings in the file Preset Menus, but anyone comfortable with a file/menu interface on a computer should not have a problem with this.


Speaker Monitor
One nifty feature that distinguishes the PMD620 from most of its competitors is a speaker monitor. You don't have to wear headphones or plug it into external speakers to playback what you recorded.

The mono sound quality is pretty bad - reminiscent of those little AM/FM transistor radios people used to take to the beach -- but it's very convenient to be able to check which file is what without using another piece of equipment.

Storage and Connectivity
Another feature that distinguishes the PMD620 is storage capacity. The PMD620 will accept any size card up to 2T (that's 2,000GB) and will record a file as big as the card you put in it.

Tracks can be split "on the fly" while recording by pressing the REC button. After recording, the Copy Segment feature can be used to copy part of a big original file into a new smaller file.

The PMD620 has 2 electret condenser microphones, 5V phantom power, a USB 2.0 port, and 1/8" stereo connectivity including line and mic inputs, line out, and a headphone jack.

Complete specifications can be found on the Marantz PMD620 brochure.

---
ANOTHER UPDATE
We are pleased to report that Marantz released a firmware update that fixed the PMD620 headphone latency issue. The USB 2.0 connection is still a little pokey, but we are very happy to be able to monitor our samples without the latency. Thank you, Marantz.
---
UPDATE
After using the PMD620 for a while, we found a couple of CONS:
Headphone Latency. This has been fixed. See above.


Sluggish USB. The PMD620 USB connection is a little slower than most. A 1GB file may take up to 8 minutes to transfer to your computer, whereas a recorder like the Sony PCM-D50 could probably handle it in half that amount of time. The workaround for this is to insert your PMD620's SD card directly into your computer's USB card reader. This slightly increases wear and tear on the card, but transfers will be faster.
Notwithstanding the slow USB connection, we still love using the PMD620.
---
Battery Life
Very good. The PMD620 lasted more than 6 hours in our battery life test.
Sound Quality/Microphones
Very good. To our ears, the Marantz PMD620 sounds a bit rounder and sweeter than the other products in its class. Very flattering to acoustic instruments. Of course, this is a matter of personal taste. Listen to our Marantz PMD620 sound samples and decide for yourself.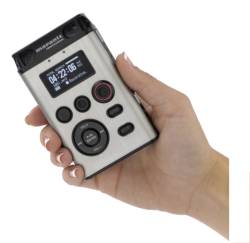 Conclusion
The Marantz PMD620 is a very nice, well-made, easy-to-use recorder that sounds really good too. With its bright screen and big buttons, it is a welcome, ergonomic addition to our selection of portable recorders.