Marantz PMD661 Review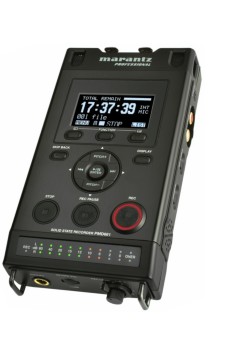 First Impressions
The Marantz PMD661 is dark and sleek and feels solid in the hand. It's about the size of a VHS cassette (3.5 x 1.5 x 6.5 inches), not quite pocket-sized.
The faceplate of the PMD661 is metal. The case is a matte-finish, high-impact ABS plastic.
The PMD661's OLED display screen is gloriously large and spectacularly clear and bright. It is the most legible portable recorder display screen we have seen.
The record function buttons are large and squishy. The menu navigation buttons are small and squishy. The playback function buttons are crisp and precise. All are very responsive.
In the Box
The Marantz PMD661 comes with
an audio y-cable
a usb cable
an AC adapter
a carry strap
a 1GB SD card
a User Guide in 4 languages (English, French, Spanish, German) and
a CD-ROM containing PMD Mark Editor software and the User Guide in 9 languages (English, French, Spanish, German, Dutch, Italian, Portuguese, Swedish and Japanese).
We hope Marantz releases a custom carry case for the PMD661 soon. Our demo unit already has a tiny ding on the face plate.


Ease of Use
The PMD661's ergonomic, one-touch controls make recording very simple.

Press the REC button once to start recording. Press the STOP button once to stop recording. Press the PLAY/PAUSE/ENTER button to playback what you recorded. Very easy.

To set recording input levels, press the REC PAUSE button and adjust the dual-concentric REC LEVEL knob while observing the 9-step LED input level meter. An "OVER" indicator lights when your levels are too high.

Your most difficult task will be adjusting your choice of recording mode settings in the Preset Menus, but anyone comfortable with a file/menu interface on a computer should not have a problem with this.

The integrated tripod mount allows the PMD661 to be mounted on a camera tripod or microphone stand with an adapter.



Storage and Connectivity
The Marantz PMD661 uses stable, reliable SDHC media cards. Ours came with a 1GB SanDisk SD card.
Input can be provided through the built-in condenser mics, external mics via the phantom-powered XLR inputs, an 1/8" stereo line-level port, or a digital coaxial port.
Output is available from on-board stereo speaker monitors, stereo RCA phono ports and a 1/4" headphone jack with a dedicated level control.
A USB 2.0 connection allows easy transfer of recorded files to your computer. Operation via wired remote control is also possible.
Review the Marantz PMD661 datasheet for more technical information.




Battery Life
The PMD661's battery life is respectable. During our battery life test, it lasted 5.8 hours.
Sound Quality
Excellent. The internal mics in the PMD661 are greatly improved over those in the 660. They may be equal to or better than those in the PMD620.
The PMD661 manual recommends using only phantom-powered condenser mics. We achieved clean and clear results with every phantom powered condenser microphone we tried. We obtained good results with high-quality, low impedence dynamic microphones.
Listen to the noise floor samples we made with the PMD661:
Internal Mics
Mic/
Dyn
Mic/
Cond
Line/
Cond
Conclusion
We like the Marantz PMD661. It looks good, sounds good and comes in a conveniently small package. We really appreciate the fact that Marantz took the best features of the PMD671 (recording capability and mic pre-amps) and combined them with the best features of the PMD620 (display, ease of use, internal mic and speaker quality) to make an excellent all-around field recorder.