Recording Setup
We made the sound samples in Stephanie's living room, a 17'-6"L x 11'-4"W x 7'-9"H space with plaster walls and hardwood floors.
Besides 2 wool rugs (8'x10' and 5'x8') and clutter consisting of sheet music and CDs, no special acoustical treatments were used.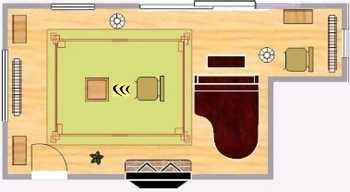 We placed the recorders in a row on a music stand (solid metal type) that was adjusted to be completely horizontal. A towel was placed under the recorders to dampen any extraneous stand noise.

The music stand was positioned so that the front of each recorder was approximately 28" (a cello bow length) from the bridge of Stephanie's cello.
We turned on all of the recorders, adjusted the levels, pressed record on each device, and Stephanie played her samples.
The wind duet, speech, choral and piano samples were made with the same or substantially similar process.
Zoom H4 Multi-Track Recordings
Each of the stereo tracks on the Zoom H4 2-Track Sample were played into the unit's stereo mic.
Each of the mono tracks on the Zoom H4 4-Track Sample were played into a DPA 4022 compact cardioid microphone mounted on Stephanie's cello tailpiece and plugged into the "Line 1" XLR input of the Zoom H4.