Tascam DR-1 Review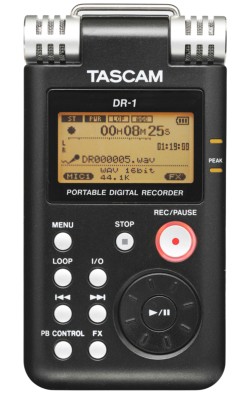 First Impressions




The Tascam DR-1 has a very smooth, lightweight, somewhat plastic-y feel.

Except for the microphone housing, its body is made entirely of plastic.

At 5.3" x 2.8" x 1.1", it feels a bit too wide for absolute hand comfort, but it can easily fit in a coat pocket.

The DR-1's backlit LCD screen is very clear and coherent. It's one of the more legible screens we've seen.

The buttons are crisp, responsive and very clearly laid out.





In the Box
The Tascam DR-1 comes with
a soft case
a usb cable
a 1GB secure digital media card containing the Owner's Manual
a proprietary specialized lithium ion battery and>
a Quick Start Guide.
Compared to most other recorders, this is a very skimpy assortment of included accessories. An AC adapter and extra lithium ion batteries are available as optional accessories.


Ease of Use
Recording with the Tascam DR-1 is straightforward.

Press the REC/PAUSE button once to go into REC PAUSE mode. Adjust the recording levels with the INPUT dial if you're using built-in or external mics. Use the OUTPUT '+' and '-' buttons to set LINE IN levels.

Press the REC button again to record. Press the STOP button to stop. Press the PLAY/PAUSE button to listen to the file.

Navigation through the DR-1's menu tree is accomplished with a wheel on the front of the unit. Anyone comfortable with a file/menu interface on a computer will figure it out quickly. Turning the wheel is easier on the thumb than clicking a button dozens of times.

Our favorite feature of the navigation wheel is being able to fast forward or rewind very precisely to a location in any file you've recorded. Very nice.



Storage and Connectivity
The Tascam DR-1 can write files and accept SD media cards up to 2GB in size. A firmware update increasing the capacity to 32GB is expected, but no word yet from Tascam.

The USB 2.0 connection is very fast.

The Tascam DR-1 has a mini USB 2.0 port, 1/8" stereo line and mic inputs, a 1/4" mic input (TS) and a combination 1/8" line out/headphone jack.

More information can be found on Tascam's DR-1 web page.




Battery Life
Good. The Tascam DR-1 lasted more than 5 hours during our battery life test. The Tascam DR-1 battery can be charged through its usb port via your computer or by Tascam's optional PS-P520 AC adaptor.

Sound Quality/Microphones
The sound of the DR-1 is very nice. Warm, natural and fairly quiet. We had fun playing with the effects too. Take a listen.



Speech Sample
Normal
Speech Sample
With Effects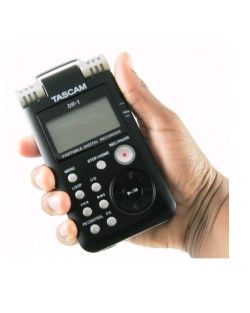 Conclusion
The Tascam DR-1 is a very good, affordable, fun-to-use recorder that sounds good too.

We are happy to add it to our selection of portable recorders.