Yamaha Pocketrak 2G Review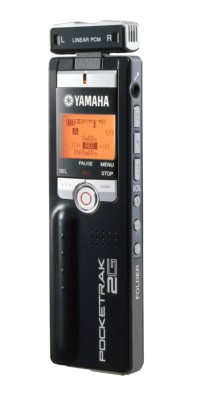 First Impressions
The Yamaha Pocketrak 2G is very small. At less than half an inch thick, it can easily fit in a shirt pocket.
The Yamaha Pocketrak 2G is very lightweight. At less than 1.7 ounces (with a battery), it's half the weight of an average cell phone.
Its body (even the chrome-looking part) is made of a very smooth, shiny plastic. It will rattle faintly if you shake it.
The tiny Pocketrak 2G screen is coherent but barely legible to this writer - 30% smaller than the Zoom H2 screen - really small.
If you have been using your eyes for more than 30 years or so, you may spend a lot of time squinting with the Pocketrak 2G.
The buttons are crisp, responsive and logically laid out.
In the Box
The Yamaha Pocketrak 2G comes with
1 x AAA Eneloop rechargeable battery
a usb cable
earphones
a protective case with threaded tripod socket
a tripo/mic stand adapter
an Owner's Manual in 5 languages (English, German, French, Spanish & Italian) and
a DVD-ROM of Cubase AI4 music production software
This is a very good assortment of included accessories, but an AC adapter would have been nice. Yamaha claims that the Eneloop battery should be able to last up to 19 hours per charge, so this could make up for it.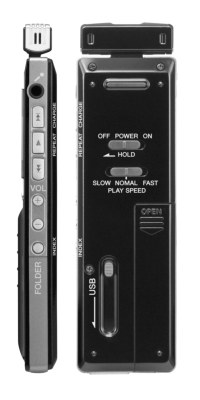 Ease of Use
If you can see the screen, it's easy to make a recording with the Yamaha Pocketrak 2G. Press the REC button once and it goes into REC PAUSE mode. Set the recording levels with the '+' and '-' VOL buttons on the side.

Press the REC button again and it starts recording. Press the STOP button once and it stops. Press the PLAY button on the side to listen to what you recorded. Easy.

The play speed feature did not work with the PCM files we recorded. The manual said that might happen.

Anyone comfortable with a file/menu interface on a computer will figure out the menu tree fairly quickly.




One feature we did find puzzling is the REC MODE menu. Most units allow you to select the specific bit and sampling rate of your choice.

The Pocketrak 2G offers 5 recording mode choices:
PCM - Pulse Code Modulation
XHQ - Extra High Quality
HQ - High Quality
SP - Standard
LP - Long
Neither the Owner's Manual nor the Reference Manual told us the specific bit and sampling rates of the various recording modes. We had to try each mode to find out, which was annoying.
To save you the same trouble, here they are:
PCM - 16 bit/44.1 kHz - wav @ 1,411 kbps (stereo)
XHQ - 16 bit/44.1 kHz - mp3 @ 128 kbps (stereo)
HQ - 16 bit/22 kHz - mp3 @ 64 kbps (stereo)
SP - 16 bit/11 kHz - mp3 @ 32 kbps (stereo)
LP - 16 bit/16 kHz - mp3 @ 16 kbps (mono)
Storage and Connectivity
The Yamaha Pocketrak 2G has a built-in 2GB flash drive. That's it. If you record mostly to mp3 file formats, it may be all you will ever need.

The built-in drive is organized into 6 folders: ALARM; DATA; LINE; MANUAL; MUSIC & VOICE. The ALARM folder holds files that can be played as an alarm. The DATA folder stores data files (excel, word, etc). The LINE folder stores files recorded from external devices. The MANUAL folder stores .pdf versions of the Owner's and Reference Manuals. The MUSIC folder stores mp3 and wma files transferred from your computer. The VOICE folder stores files recorded by the unit. It contains sub-folders A-D and password-protected folder S.

Upload your favorite tunes to the MUSIC folder for those times you want to use the Pocketrak 2G as a music player.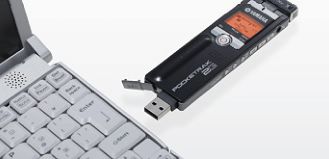 The Yamaha Pocketrak 2G has a USB 2.0 connector, a combination 1/8" stereo line/mic jack and a combination 1/8" line out/headphone jack.

The USB 2.0 connection is fast.

Review the complete Yamaha Pocketrak 2G specifications at Yamaha's site.


Mono Speaker Monitor
The sound quality of the stereo monitor is decent.
This feature is extremely convenient for checking files without having to reach for another piece of equipment.
Battery Life
It appears to be excellent, but we haven't tested the eneloop battery to see if it really lasts 19 hours on a charge. After several sound sample trials, the battery life indicator still says fully charged.



Sound Quality/Microphones
A little too "colored" for our taste, but impressive for such a little unit. Check out our sound samples below.
Yamaha Pocketrak 2G Sound Samples
Cello
Speech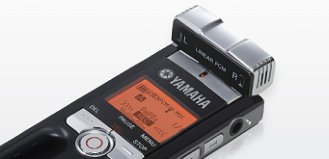 Conclusion
The Yamaha Pocketrak 2G is a very small & clever unit. However, with only one uncompressed recording format and a very tiny, hard-to-read screen, we think of it as a very versatile USB jump drive with digital recording capabilities. Accordingly, we've decided not to stock the Pocketrack 2G.

We understand that the next version Yamaha Pocketrak CX has enhancements such as longer battery life (up to 50 hours at mp3 recording), a 90°X-Y stereo microphone, expandable microSD storage with a 2GB card included, playback speed adjustment and an on-board speaker monitor. We'll let you know what we think of it when we get around to ordering one.