Zoom H2 Review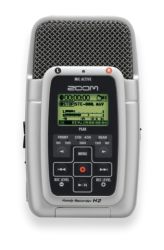 First Impressions
Smaller than the Zoom H4, and better built. Truly palm-sized. At roughly 4.25" H x 2.5"W x 1.2" D, it is about the same size as a 30GB iPod, only chunkier.
The Zoom H2 button layout is clear and straightforward. When pressed, the buttons are squishy but responsive.



The Zoom H2 comes with lots of very handy accessories too:

a pouch that actually fits the device
a pair of earbuds
a 512 mb secured digital media card
a USB cable
a 1/8 minijack to stereo RCA interconnect cable
a windscreen
a desktop stand
a mic stand adapter
an AC adapter and
an owner's manual.
CONS: It has the same postage-stamp-size screen as the Zoom H4. You may need reading glasses to operate the Zoom H2.
Ease of Use
If you are familiar with the typical file/menu computer interface and have used a recording device before, the Zoom H2 is easy to use.
The manual is a 91-page tome, but the 1-page "Zoom H2 Simple Recording Guide" really does tell you all you need to know to get started.
I made my first recording after reviewing it for about a minute or 2. Navigation is performed via a menu button and a red record button.
The Zoom H2 records in a healthy selection of wav and mp3 formats.
Mic Pattern Selection
Aside from its price and small size, the Zoom H2's most unique feature is its ability to record in 4 different mic patterns.
With its 4 built-in mics, you can control the direction and angle from which sound is picked up by the H2.

The choices are:

Front 90° (sounds within a 90-degree angle of the front of the unit are recorded in stereo);
Surround 2-channel (sounds at the front and rear of the unit are recorded in 2 channels);
Surround 4-channel (stereo sounds from the front and rear of the unit are recorded in 4 channels); and
Rear 120° (sounds within a 120-degree angle of the rear of the unit are recorded in stereo).
Our Zoom H2 sound samples were recorded in Front 90° mode.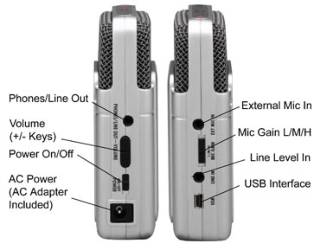 Storage and Connectivity
The Zoom H2 can accept secure digital media cards up to 8GB in size.
It has a mini usb port and 1/8 mini jacks for headphones/line out, external mic in, and line in.
THe Zoom H2 usb 2.0 connection is quick and responsive.
Battery Life
Very good. The H2 lasted more than 6 hours during our battery life test.
We achieved these results with the H2 in Front 90° mode, recording an mp3 at 128Kbps.
Of course, you may achieve different results. Battery life will be shorter when you record bigger files.
The Zoom H2 is bus powered too, which means that even if your batteries are depleted, you can use your computer's USB connection to power the device long enough to move your files.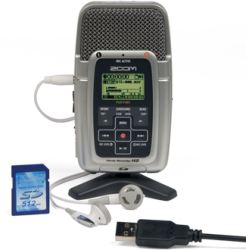 Sound Quality/Microphones
The sound quality is good, incredibly good for the price, but to my ears it sounds a bit "colored" like the Zoom H4. This is of course a matter of taste. Check out our Zoom H2 sound sample and decide for yourself.
Conclusion
The Zoom H2 truly is a handy, easy-to-use device that makes good recordings. It is an incredible bargain at its price.