Zoom H4 Review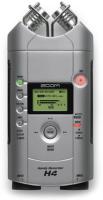 First Impressions
Based on its feature set, the Zoom H4 is one of the best portable recording bargains available.
It is also the only device in its class that has XLR inputs.
It comes with a windscreen, a usb cable, an AC adapter, a tripod mount adapter, a 128 mb SD media storage card, a cd-rom with Cubase editing software, and a user manual.
It's a bit bulkier than its comparably-priced competitors. Small but not quite pocket-sized.

Ease of Use
Navigation on the Zoom H4 is not intuitive. I spent almost an hour reading the manual before making my first recording.
The central menu button is very squishy and imprecise. It sometimes takes 2-3 tries before you can get it to show the menu that you want. The jog dial button feels very insubstantial.
The screen is quite small. If you've been using your eyes for more than 30 years or so, you may need reading glasses to operate the Zoom H4.
Being so many different things (stereo recorder, 4-track recorder, audio i/o) means that there are lots of file/menu tree selections to make, depending on what you want to do.
If you just want to make live 2-track recordings with no effects, this could get tiresome. If you love lots of features and choices, you'll have fun.
4-Track Recording
The 4-track sample on this site was my first attempt ever at making a multi-track recording. It was fun even though I had to spend another hour or so with the manual before figuring it out. The on-board metronome with its 8-beat intro and multiple sound styles is quite helpful.
After the novelty of hearing 4 of me wore off, though, I realized that to my ear, the sound is a bit muddy. There are also several 4-track recording alternatives on the market that are affordable and easier to use. I'm not sure why anyone would buy the Zoom H4 for its 4-track recording feature.
USB Audio Interface Feature
The inputs for the usb audio i/o feature are extremely sensitive. I had to reduce the gain quite a bit in order to get a usable sound sample.
However, the sound sample I did get has an audible whine or hiss on the playback. (If any reader out there was successful in getting a finished product via this feature without the whine, please let me know.)
Again, there are several alternatives on the market that are affordable and easy to use. I'm not sure why anyone would buy the Zoom H4 for its audio i/o feature.
Sound Quality/Microphones
Good. You can make good recordings with this device. The built-in microphones are quite sensitive.
However, to my ear, the Zoom H4 sound sample seems a bit more "colored" and less detailed than the others. This is of course a matter of taste.
Storage and Connectivity
You will want to upgrade to a 2GB SD media storage card. This is the highest capacity card the device can hold for now.
The usb 2.0 connection is good, but noticeably slower than those of the Edirol, Korg, MicroTrack or Sony devices.
The XLR connections work just fine, but will any microphone you plug into it sound better than the built-in mics? I'm not so sure.
The mic-preamps are the limiting factor here. Would you have guessed that I used a $3,000 pair of DPA microphones to make the 2-track cello sample? I didn't think so.
Battery Life
Good. The Zoom H4 lasted more than 4 hours during our battery life test . Of course, you may achieve different results.
We've had quirky experiences with the on/off switch. The batteries drained overnight a couple of times, even though the unit appeared to be turned off. Make sure you have plenty of charged batteries on hand, just in case.
Conclusion
The Zoom H4 is an extremely versatile device that makes good recordings, but it does have a larger learning curve and less intuitive interface than the other handheld recorders featured on this site.