Zoom H4n Review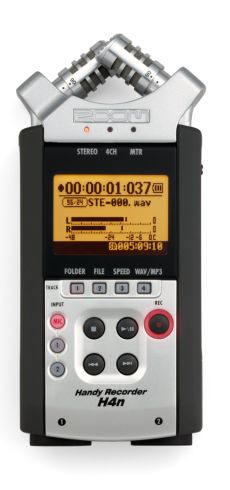 First Impressions
The Zoom H4n feels solid and comfortable in the hand. At 2.6" x 6.1" x 1.9", it can easily fit in a large coat pocket, backpback or briefcase.
The H4n microphone housing is metal. The front plate appears to be plastic. The rest of the body has a rubberized coating. Three (3) tiny rubber feet are on the back.
Notwithstanding the solid feel, the microphones move a little when you switch the variable 90-120 degree angle settings. We get the impression that we could snap the mics off with our bare hands.
The backlit LCD screen is bright, clear and easy to read. Its viewable area is more than 2.5 times larger than the screen on the H2 or the H4.
The buttons are crisp, responsive and clearly laid out.
In the Box
The Zoom H4n comes with


*
a 1GB SD media card
*
a windscreen
*
a mic clip adapter
*
an AC adaptor
*
a USB cable
*
a protective case
*
a CD-Rom with Cubase LE recording software and
*
an Owners Manual.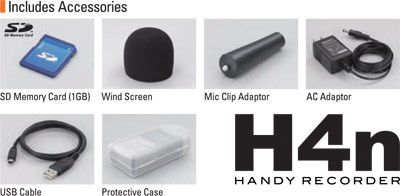 Once again, Zoom leads the way in providing a generous and useful set of included accessories with its products. (Yes, the protective case is cheesy, but it works). A wired Remote Control (RC4) is optional.


Ease of Use
The Zoom H4n is easy to use. We even made a multi-track recording without reading the manual or using a magnifying glass. Here's the quick sample we made with a Countryman E6i Earset microphone phantom powered by the H4n's XLR input 1:


Zoom H4n Multi-Track Sample


This is a huge improvement over the H4.

The built-in tripod mounting hole in the back makes it easy to set up with a tripod, or with the mic clip adaptor and your mic stand. The speaker monitor helps you keep track of your recordings.

Navigation through the menu tree is accomplished with a MENU button and a JOG DIAL on the right side of the unit. Anyone comfortable with the file/menu interface on a computer will figure it out quickly.

Press the REC button once to go into REC PAUSE mode.

Adjust the input levels with the '+' and '-' REC LEVEL buttons. Adjust the output volume with the '+' and '-' VOL buttons.

Press the REC button again to record.
Press the STOP button to stop.
Press the PLAY/PAUSE button to listen to the file.

The list of Zoom H4n features is truly impressive. It's a stereo recorder (with a built-in M/S stereo decoder and a Mono Mix option), a multi-channel recorder, a 4-track multi-track recorder (with nearly 50 effects, a metronome and a tuner) and a USB microphone.

Watch the official Zoom H4n video or browse the Owner's Manual to learn more about what it can do.



Storage and Connectivity
The H4n can write files up to 2GB and accept SD media cards up to 32GB in size. It records mp3 files from 48-320 kbps and wav files up to 24-bit/96kHz. The USB 2.0 connection is very fast.

The Zoom H4n has 2 combo XLR/Hi-Z inputs with phantom power, an 1/8" EXT MIC jack with plug-in power, a mini USB 2.0 port, and 1/8" REMOTE and stereo Headphone/LINE OUT jacks.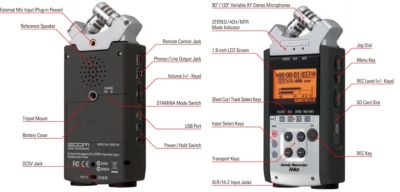 (Click image for larger 800 x 400 pixel view).



Battery Life
Zoom estimates that if you record in stereo at 16-bit/44.1kHz, you will get 6 hours of recording time in normal mode and 11 hours of recording time in stamina mode. During our battery life test, we achieved 4.4 hours in normal mode recording at 128kbps mp3 and 7.7 hours in stamina mode recording at 16-bit/44.1kHz.

Sound Quality/Microphones
The Zoom H4n sounds good. The built-in mics are relatively quiet. The mic preamps are fairly clean.

While making our test samples, however, we noticed much more noise and hum when we used the included AC adapter. With AA batteries, much better. Use rechargeable batteries if you can. Listen to our H4n samples:



Internal Mics
Mic/
Dynamic
Mic/
Condenser
Line/
Condenser
Conclusion
The Zoom H4n is a very good, versatile and easy-to-use digital recorder. It's also an incredible bargain for the price.

If you are looking for a handheld recorder with XLR inputs and phantom power, it should definitely be on your short list for consideration.